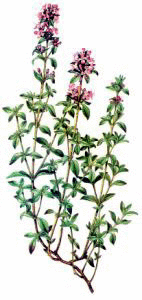 Thyme, a very popular and well known culinary herb, is very versatile.

It is great in salads, soups, breads, meats and veggies.

Very easy to grow, Thyme thrives in a hot, sunny, well drained location and is drought tolerant. So why isn't everyone growing this wonderful herb?

No excuses…plan on putting it in your herb garden in the spring!
Fresh thyme is sweetest if picked just as flowers appear and can be stored in a baggie in the bottom of the frig or in a glass of water on the frig shelf. When using fresh thyme, strip the leaves off of the stem (it can be woody sometimes) with your fingers or place the stem between the tines of a fork and pull it through.

One sprig of fresh thyme = ½ teaspoon dried thyme.
To dry thyme, just tie a bunch together and hang upside down in a cool dry place.

Then strip leaves, crush and place in small jar.
Here is a great recipe for easy Herbed Biscuit Muffins using the wonderful herb---Thyme:
·
2 1/2 cups self-rising flour
·
1-1/2 teaspoons fresh sage (or favorite herb), chopped or 1/4 teaspoon dried sage
·
1-1/2 teaspoons fresh thyme (or favorite herb), chopped or 1/4 teaspoon dried thyme
·
1 1/4 cups milk (or buttermilk)
Preheat oven to 400 F. Spray nonstick a nonstick 12-cup muffin pan with vegetable oil.

Whisk sage and thyme
into the flour.

Using a large dinner fork, stir in the mayo
and milk until combined. Do not over mix.

Divide batter evenly into muffin cups. Sprinkle Kosher salt on top--optional

Bake in preheated oven for 12 to 15 minutes for muffins, until golden.

These muffins are very good with chicken or pork and mix can be used as pot pie top crust. Yummy!

Yield: 12 servings
Hope you enjoy the Herbed Biscuit Muffins!