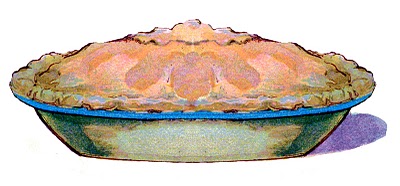 Have you ever heard of Transparent Pie? If you are from Kentucky you may have heard of it! It is a yummy concoction of cream, sugar, butter and eggs in a pie crust!
George Clooney is a fan of this special pie. After wrapping up one of his movies, he had Transparent Pies shipped from Magee's Bakery in Maysville Ky to his crew! Can you believe the Hollywood hoity toities ate good old Ky Transparent Pie? They sure did!
Several years ago my husband and I found that little, out of the way bakery famous for it's Transparent Pie and stopped to buy one! Well we bought a whole pie and then several mini pies to take home to our family. Can you say yummy? Well it was wonderful, and rich, and wonderful, and rich.........well, you get it! So here is a recipe for Transparent Pie. I only hope you enjoy it as much as my DH and I do!
Kentucky Transparent Pie
1/2 cup (1 stick) butter, melted
2 cups sugar
1 cup cream
4 eggs, beaten
2 tbs. flour
1 1/2 tsp. vanilla extract
1 unbaked (9-inch) pie crust
Preheat oven to 375°. Line a 9-inch pie plate or tart pan with unbaked pie shell (homemade or store bought)and place in the freezer while you prepare filling. This keeps the shell from shrinking when in the oven.
In bowl beat together butter and sugar until fluffy.
Add cream, and mix until smooth. Beat in eggs until combined, then stir in flour and vanilla. Pour into pie crust.
Bake at 375°. for 40-45 minutes until golden brown and slightly set.
The pie will puff up while baking and then fall. This is completely normal so don't worry! Enjoy your Kentucky Transparent Pie! Coffee and /or milk will be needed!
Sweet Blessings,
Lisa