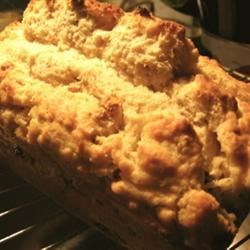 Over the weekend I made my Herbed Beer Bread and a pot of chili to go with it. The beer bread was so delicious--I made 2 batches and they only lasted about an hour with my crew! The basic beer bread recipe couldn't be any easier and it adapts well to additions to spice it up.
Basic Beer Bread
3 cups self rising flour
1/4 cup sugar
12 oz. of beer
1 Stick butter
Kosher salt
Mix all except butter and salt in a lg mixing bowl and pour into a well greased loaf pan. You can add a Tbl. of minced real garlic or herbs of your choice. You can also add shredded cheddar cheese--one cup to the dough and 1/2 cup to sprinkle on with the salt. It is tremendously tasty with the garlic and cheese. Melt butter and pour over bread dough. Sprinkle salt to taste on top(and cheese if wanted).
Bake at 350 degrees for 45-50 minutes.
For a very inexpensive, easy gift you can put the dry ingredients in a qt. sized baggie and place it in a lunch bag. (You could use a qt. jar for this but I cannot stand to give them away!) Fold top over neatly and staple or hole punch and tie with hemp srting or ribbon. Add a tag with directions on how to make the bread and you have a great little hostess gift or Christmas gift! Easy peasy!!
Hope you enjoy this wonderfully easy bread!
Blessings,
Lisa