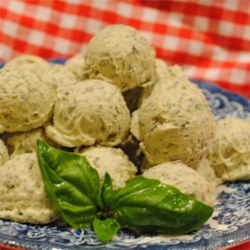 Basil Butter
Wonder what to do with all of that fresh basil? Yes, you could dry it but why not use it in a recipe and freeze until needed? Basil butter is just the thing--freeze it and enjoy the fresh taste long into the winter! Here is the recipe:
2 cups loosely packed fresh basil leaves
3 cloves garlic minced
1lb butter softened
1 teaspoon lemon juice
1/2 teaspoon salt
Dash or two of black pepper
Chop basil in food processor. Add garlic, lemon juice, butter, salt and pepper. Mix well. Drop by small scoops onto cookie sheet and freeze. Remove frozen portions and place into freezer bag. Store in freezer and use as needed. Serve as you would regular butter--on veggies, meats, and breads!
Yummy!
Hope you use this recipe to preserve the fresh taste of basil to enjoy this winter
!
Blessings,
Lisa