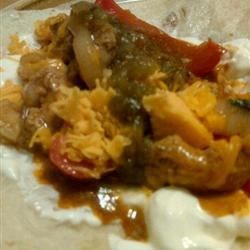 1 12 oz.jar salsa-however hot you like it!
2 small onions chopped
2 red or green peppers sliced
1 pkg. taco seasoning mix
juice of 1 lime
3 Tablespoons fresh chopped cilantro
3lbs. Boneless skinless chicken cut into chunks
Add salsa, onions, peppers, taco seasoning, cilantro, and lime juice into a crock pot and stir. Add chicken and coat with the sauce. Cook on high for 4 hours or until chicken is falling apart tender or on low for 6 hours. Pull chicken apart with 2 forks. Serve in tortillas or over rice. Add your favorites--black olives, grated cheese, and sour cream. Yummy and couldn't be easier!
Hope you enjoy!
Blessings,
Lisa